When it comes to building up your body for summer, of course you know I meant summer body. You need to pay
close attention to your upper body especially your shoulders. Shoulders give you shape and improve your posture.
Practicing these shoulder workouts for men helps in bodybuilding for men; this is a life hack that so many people
can't relate with yet. Thanks to this article, you will have an edge over any guy eyeing the same chick with you
because she won't be able to resist your hot body. I will take you through 10 shoulder workouts for men for
bodybuilding that will help the physical and other aspects of your life.
Shoulder workouts for men
1.    Barbell Overhead Press:
Instructions
Stand with your feet shoulder wide apart. keep your core tight and hold a barbell at your shoulder length with your palms facing forward.
Tense and push the bar upwards, squeeze your shoulder blades together when at the top of the movement.
Do 20 reps of this shoulder workout.
Benefits of Barbell Overhead Press
A shoulder workout which helps with strength improvement.
It keeps you fit and intact.
2.     Dumbbell or Cable Machine Lateral Raise

Instructions
Stand with a pair of dumbbells at your sides. Or set up a cable machine such that the handles are set to the lowest point.
Grab the right handle with your left and vice versa.
Set your feet at shoulder width length, engage your core and pull your shoulder blades together to lift the weight.
Do 15 reps of the workout.
Benefits of dumbbell or cable machine lateral raise
Lateral raise targets your deltoid, it helps to develop your shoulders.
It helps to strengthen and develop your upper back muscles.
7 FULL SHOULDER WORKOUT FOR BODYBUILDING
3.     Dumbbell Shrugs
Instructions
Stand with your feet shoulder wide apart. bend your knees to pick a pair of dumbbells with both hands allowing them to rest on your quads.
Draw your shoulders in to lift the dumbbells, after, keep your arm loose and relaxed to lower the dumbbells.
Stick with the same dumbbell sizes unless you feel it's getting too easy or too hard.
Do 4 sets with 10 reps each.
Benefits of Dumbbell Shrugs
This shoulder workout builds you a nice trap.
It helps you lose a great amount of fat.
4.     Reverse Cable Cross Over
Instructions
Stand in between a cable machine with the handles set at the highest point and grab the cable in the opposite hands.
Draw the handles close to your chest so your arms are crossed.
Slightly lean forward and draw your arms out and down to complete a rep.
Do 4 sets with 10 reps each.
Benefits of Reverse Cable Cross over
It hits your deltoid and makes your shoulders strong.
This shoulder workout helps a lot in improving your posture.
5.     Seated Bent-Over Rear Deltoid Raise
Instructions
Start by sitting on the bench you have provided for yourself and the pair of dumbbells behind your calves.
Bend your waist to pick up the pair of dumbbells with your palms facing each other while picking them.
Raise the dumbbells with both times at the same time until your arms are parallel to the floor.
After a second, drop the dumbbells back slowly to its starting points and repeat 10 more times.
Benefits of Seated Bent Over Rear Deltoid Raise
It keeps your body more stable.
It increases your versatility.
Also, It ensures smooth mobility in your arms.
It increases your body's metabolism.
It also targets secondary muscles like your triceps, chest, abs, and wrists.
6.     Arnold Dumbbell Shoulder Press
Instructions
To start, sit on an exercise bench with back support.
Hold the dumbbells with your palms facing your body
Exhale and lift the dumbbells to the maximum limit.
Inhale and slightly return the dumbbells to the starting position.
Repeat the process for the specified amount of reps.
Benefits of Arnold Dumbbell Shoulder Press
It stabilizes your muscles and strengthens your shoulders.
Also, It improves your functional ability.
It works out other muscles of the upper body.
And lastly, it increases your muscle mass.
Do 10 reps of Arnold dumbbell shoulder press per set, 3 sets a day is recommended for a shoulder workout.
Also Read
7.     Front Plate Raise
Instructions
Start by grabbing a single barbell to workout with.
To begin the workout, start in a standing position.
Hold the barbell with both hands at 3' o clock and 9' o clock respectively with both palms facing you.
Raise the plate until it is a little above your shoulders.
Inhale and return the plate slowly back to its starting position.
Do 3 sets daily, and each set must involve 9 reps each.
Benefits of Front Plate Raise
A good posture to correct your stature.
And also the main aim is to build your shoulder muscle.
8.     Dumbbell Reverse Fly

Instructions
Grab a pair of dumbbells.
Bend forward at your hip region.
Make sure your feet are shoulder width apart.
Let the dumbbells hang down from your shoulders.
Raise your arms straight out to the sides until they are parallel to the ground.
Slowly return the dumbbells to its starting point to complete 1 rep.
Do 3 sets with 7 reps each.
Benefits of Dumbbell Reverse Fly
It strengthens several muscles at once.
It provides you with convenience and versatility.
And lastly, you enjoy the benefit of better everyday health.
9.     Cars Drivers
Car Driver is a shoulder workout for me and it is also fun to do it. Just as the name suggests, it involves holding a
steering wheel which in this case is a barbell plate.
Instructions
Hold the barbell plate at 3' o clock and 9' o clock respectively while standing upright
Start by rotating the barbell plate to one side as far as possible
After reaching the possible limit, rotate it to the other end
Do 10 reps of this exercise daily
Benefits of Car Drivers
It strengthens your shoulders and other muscles in the upper body
Increased healthy lifestyle
10.     One Arm Side Laterals
One arm side laterals is a shoulder workout for men makes you exercise your arms simultaneously with the use of
dumbbells.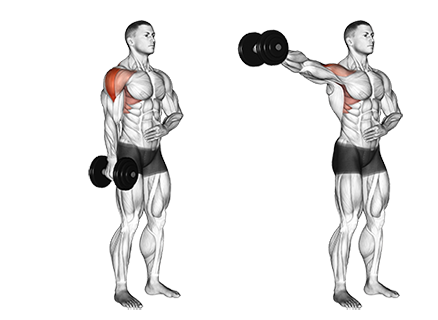 Instructions
Start by picking a single dumbbell.
Use your other hand to hold something strong and steady to maintain balance.
Make sure you grab the dumbbell with your arms facing your body.
Lift the dumbbell with your elbows slightly bent.
Once your arm is parallel to the ground, exhale and return the dumbbell to its starting position.
Do 10 reps for the right arm and the same for the left arm.
Do a total of 3 reps for each arm per day.
Benefits of One Arm Side Laterals
It increases your shoulder muscle mass.
Also, It is a great exercise for your shoulder joint.
It helps other muscles like the triceps, chest increase in size.
Side laterals are also a great endurance and stamina exercise.